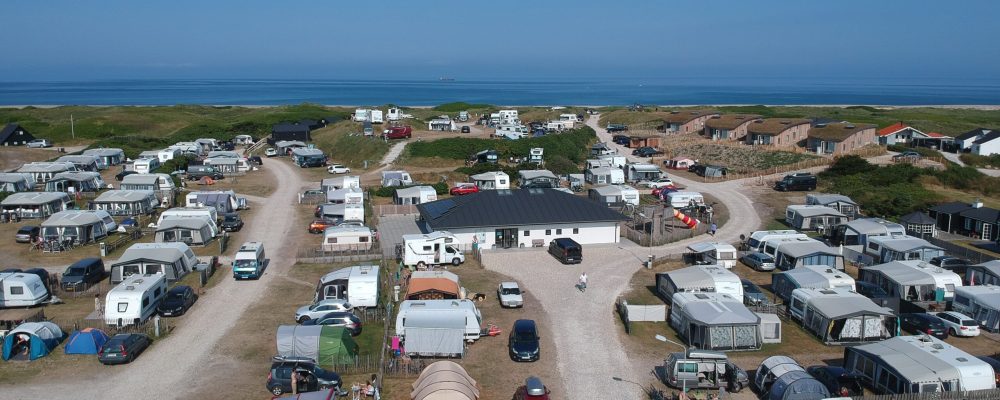 Vorupør Camping - Cold Hawaii
We are not like the others. We are different - but in a good way!
Vorupør Camping is a small and cozy campsite in the middle of Vorupør city and with direct access to Vesterhavet (The North Sea.) The location of our campsite is unique because of the short distance to the restaurants, shops and the beach.
Vorupør Camping is a self-service campsite. When creating a booking you register your licence plate number at the same time, and due to license plate recognition you can drive straight in to the campsite when your vacation begins.

You can aqquire a consumption card via the machine inside the service building. The consumption card can be used for buying electricity at the pitch, warm water in the shower, for using the washing machine, tumble dryer and the kitchen facilities. The consumption card can be loaded with cash by using the machine and you will of course get any leftover money back when you depart. When you check out you simply have to return the consumption card through the machine and leave the campsite.

The are no kiosks or shopping options at the campsite, because Vorupør city have a lot of good options!

Our service-building is top modern with great showering facilities, large family-rooms, private toilets, handicap toilets and shower and a baby nursing room. There is a playground close to the kitchen and an outdoor dining area where you can enjoy your lunch etc. 
There is an amazing ocean-view from a large number of units at the campsite. The North Sea is only a few hundred meters away. The sunset from here will keep you warm for years to come. 
Besides our units for caravans and RV's it is also possible to book a stay in one of our cabins. Our Havhytter (ocean cabins) are bright and comfortable and give you the feeling of living inside a dune. 
Klittoppene, our new design cabins, are also build on top of the dunes and they imitate the shape of a wave. From the living space you have the most extraordinary view of the ocean. Each cabin is a great place to enjoy your vacation and the beautiful nature of Nationalpark Thy.